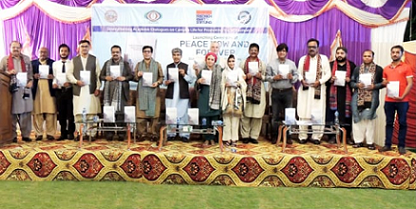 KHAIRPUR Oct 08,2021
A Two-Day Training Workshop on Critical Reading and Writing organized by the Bhittai Social Watch & Advocacy (BSWA), Khairpur, Friedrich Ebert Stiftung (FES), Pakistan in collaboration with Shah Abdul Latif University (SALU), Khairpur and Inter-University Consortium for the Promotion of Social Sciences (IUCPSS) concluded.
Prof. Dr. Khalil Ahmed Ibupoto, Vice Chancellor, Shah Abdul Latif University, Khairpur and Dr. Jochen Hippler from FES Pakistan inaugurated the workshop.
The students from members institutions of IUCPSS including Quaid-i-Azam University, Islamabad, Ripha University, Rawalpindi, Khuwaja Fareed University, Rahim Yar Khan, Benazir Bhutto Shaheed Women University, Peshawar, Mir Chakar Khan Rind University, Sibbi, Shaheed Zulfiqar Ali Bhutto Institute of Science & Technology, Karachi and F.C College University, Lahore and host Shah Abdul Latif University, Khairpur participated in the workshop.
Speaking on this occasion, Prof. Dr. Khalil Ahmed Ibupoto said that critical reading and writing reflects one's intellectual vision on any subject. This workshop has provided an ample opportunity to students to produce an intellectual piece of writing. Dr. Ibupoto remarked that Shah Abdul Latif University, Khairpur has expanded in terms of infrastructure and quality education. We not only provide students with excellent educational opportunities but also groom their personalities.
Dr. Jochen Hippler from FES remarked that the purpose of this academic activity was to engage students in research based activities and encourage them for academic writings.
The resource persons of training workshop were Dr. Jochen Hippler and Dr. Fatima Kamali from Quaid-i-Azam University School of Politics and International Relations.
Book Launch
Prof. Dr. Khalil Ahmed Ibupoto, Vice Chancellor presided over the concluding ceremony of the workshop while Raja Tarqiue Hussain Chandio, Deputy Commissioner, Khairpur was the chief guest. Murtaza Noor, National Coordinator IUCPSS, Dr. Jochen Hippler and Mr. Mukhtiar Malik, Renowned Poet and Broadcaster were the guests of honor.
Prof. Dr. Khalil Ahmed Ibupoto said I am really proud of students of Shah Abdul Latif University, Khairpur who authored a book Peace Now & Forever. It is a good piece of edition for Central Library as well as for the readers of the world. We are on the path of development since we have set dynamic and energetic team. Dr. Ibupoto commended the efforts of IUCPSS, BSWA, FES Pakistan and the team of the SALU for organizing this result oriented workshop. The Vice Chancellor also appreciated the keen interest of Deputy Commissioner, Khairpur in the academic dialogue.
Raja Tarqiue Hussain Chandio said that the glimpses and the title of the book are excellent. He said I am optimistic that peace will stay forever. Sindh has accepted different cultures. This is the land of Sufi Saints so we are broad minded. Mr. Chandio appreciated the efforts of Dr. Khalil Ibupoto who is working hard day and night for the development of the University.
Dr. Jochen Hippler extended thanks to teachers who guided the students to accomplish their research publication in the advent of COVID-19.
Speaking on this occasion, Mr. Murtaza Noor highlighted the importance of effective engagements of students at University campuses through promoting values of peace, tolerance and co-existence. In this regard, first ever student societies centre has been established at SALU.
Prof. Dr. Ghulam Mustafa Mashori, Dean Faculty of Arts & Languages spoke as keynote speaker. He said that the books authored by the students reflect their vision and commitment with the education and research. We are proud that our students possess potential and curiosity for the academic pursuit.
Dr. Taj Muhammad Lashari, Dean Faculty of Social Sciences, Mr. Mureed Hussain Ibupoto, Registrar, Mukhtiar Malik,  Muhammad Ibrahim Khokhar, Hassan Shaikh, Niklas Joschua Kemper FES, Pakistan, Syed Kaneez Zehra Rashdi,  Abdullah Phulpoto, Muhammad Ali Lashari and . Khadim Hussain Mirani also spoke on this occasion.
Mr. Abdullah Dayo, Program Manager, FES Pakistan moderated the session.
Meanwhile, launching of YouTube Channel "The Campus Life in Pakistan was also held. Prof. Dr. Khalil Ahmed Ibupoto and  Raja Tarqiue Hussain Chandio launched the YouTube channel.
The screening of video documentary produced by the students of University was also telecasted. Certificates, shields and traditional gifts were presented to the participants and guests.
The ceremony was followed by Sufi Music performed by the Sufi Singers of the Sachal Sarmast Shrine. A large number of Civil Society Activists, Faculty Members and Social Activists attended the ceremony.
Sindh Agri University to set up academic foundation of the university