Aslam Gurdaspuri an ideological poet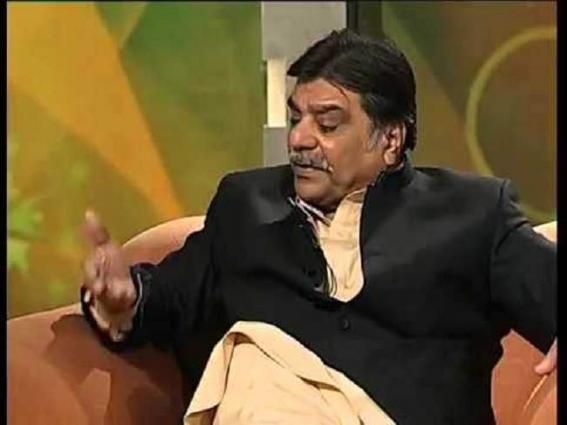 By Shahnilla Fayaz
Aslam Gurdaspuri belongs to the extinct type of ideological political activists. This type consisted of political activists whose struggle, instead of personal prosperity and development focused on the betterment and prosperity of the oppressed sections of the society. Now, the political parties are void of ideological activists and their backbone is in the hands of power brokers.
Political parties are now more dependent on power brokers than political activists. Where consumerism has played a role in the elimination of political activists, the desire of political parties to gain power at any cost and any how has also greatly diminished the importance and status of political activists. Powerbrokers are Brahmins.
It is the power brokers who move political parties closer or farther from the centers of power. Political activists believed in struggle while power brokers bring political parties closer to or away from power through conspiracy and manipulation.
Malal-e- Be-hunri is his fifth collection of poetry. It is completely devoted for Ghazals Aslam Gurdaspuri's literary endeavors are thus in tune with his practical life. Somewhere this harmony comes to the fore, somewhere it is expressed between lines."Sola-e- Sarkash" comprises of poems and ghazal written on 1960s, decade of mass and democratic movement. "Dhoop ka Safar" is collection of couplets. Here one can see the criticism of dictatorial regimes, "Seel Khoon" is collection of ghazals and poems which portray the sufferings of masses and resistance scenarios. "Dayar-e- Jaan" is collection of ghazals.
Aslam Gurdaspuri was elected member of Punjab Assembly in 1988 general ections on PPP ticket.
He also wrote a book "Marxism aur Aj ke duniya".
Aslam Gordaspori, who belongs to the genre of ideological activists, has penned his journey of life under the title "Tujhe Ae Zindagi Laoon Kahan Se'".
In his autobiography, he has not only described his political and social experiences, but has also made an objective analysis of important political figures and political events of our political history over the past five decades.
Born five years before the partition of India in the village of Sat Koha in Batala Tehsil of Gurdaspur district, Aslam Gurdaspuri began his education in Gujranwala district of Mari Thakran where his family had migrated after the formation of Pakistan.
Aslam Gurdaspuri has described in great detail his early education, school environment, inhumane treatment of students by teachers. These days, he has also mapped in great detail the various economic and social problems faced by the migrants from East Punjab. These immigrants, suffering from depression and economic hardship, had nothing to eat or wear.
After matriculation, he had to go to Dera Ghazi Khan with his elder widowed sister and his stay in Dera Ghazi Khan played a very important role in shaping his mind. It was here that he became acquainted with poetry, drama and acting. Khalid comrade person had played an important role in his mental transformation.
The fundamental transformation took place in him when he was introduced to the famous poet and intellectual Zaheer Kashmiri. Zaheer Kashmiri was not only a great poet of his time but also one of the pioneers of Marxist thought. Zaheer Kashmiri played a decisive role in Aslam Gurdaspuri's mental growth and drew him towards progressive poetry and politics.
Aslam Gurdaspuri calls Zaheer Kashmiri his teacher and attributes his intellectual and ideological changes to his companionship.
Aslam Gurdaspuri is one of the founding members of the PPP and at one time was considered one of Bhutto's close associates and activists. His poems used to be an important item in Bhutto's public meetings.
 When the PPP came to power, the ideological coating of its leaders, like Aslam Gurdaspuri, is also mentioned. The PPP leaders who used to swear allegiance to the people's rights, as soon as they came to power, began to shake the terror of ruling over the people.
The most important observation of Aslam Gurdaspori is about MRD. The Restoration of Democracy Movement is considered to be the largest and most effective movement against martial law in Pakistan and for the restoration of democracy, but Gurdaspuri describes it as an alliance formed by the Establishment to control Bhutto Ladies. The movement, he said, was aimed at boycotting the 1985 non-party elections. He believes that all the political leadership of the time had cooperated and supported General Zia in executing Bhutto.
Aslam Gurdaspuri has also described in great detail how the PPP leadership bought and sold tickets in 1988 and has exposed those who used to collect money from candidates to get tickets. For some PPP leaders, the election became a stock market that drove new prices for tickets every day, and the distribution of these tickets was decided at the bungalow of Akhtar Javed Pirzada, a Karachi businessman who apparently had nothing to do with the party and politics.
In the 1970s and 1980s, he described the politics of Pakistan, especially Punjab, the rise and fall of the PPP, the principledness and opportunism of various political leaders. This autobiography is a must read for those who are interested in finding out the motives behind the ideological decline in our politics.