Czech model Tereza's request for repatriation request: IHC issues notice
ISLAMABAD, March 3,2022- The Islamabad High Court, on petition of Czech model Tereza has issued notice to the Interior Ministry seeking a response within two weeks.
Czech model Tereza acquitted of drug trafficking charges but was not allowed to return her home.
Foreign model Tereza acquitted of drug trafficking charges and had requested to allow her to return home country.
Justice Aamir Farooq heard the request to return the passport and other goods of Czech model.
Saif ul-Malook, a lawyer of model Teresa, appeared before the court told that petitioner is not allowed to repatriate to his country.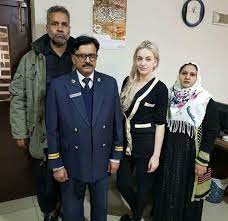 "Why didn't you file a petition in the Lahore High Court?" Justice Aamir Farooq inquired.
The lawyer of petitioner said that the ministry of Interior is in Islamabad, so petition was filed here.
The Lahore High Court acquitted the accused on drug charges. The Ministry of Interior dismisses his request to return to her country.
Her repatriation was not allowed because the appeal is pending.
On Jan 10, 2018, custom officials had arrested the model after finding nine kilogrammes of heroin concealed in her luggage.
In March 2019, a sessions court had sentenced Tereza Hluskova to eight years and eight months in jail. In April the same year, she had challenged her conviction in the case. The 25-year-old Tereza, claimed insisted someone had placed the drugs in her suitcase.
In November 2021, The Lahore High Court (LHC) acquitted a Czech model sentenced in 2019 for attempting to smuggle heroin from Pakistan to Abu Dhabi.