Twitter is working on rich tweet reactions, similar to Facebook
May 31, 2021
Twitter a widely use social networking platform is looking into implementing richer reaction option on its platform.
The insider info comes courtesy of Jane Manchun Wong – the researcher that has recently been tipping the internet about other Twitter features, like its verification program, Tip Jar and "Blue" paid subscription.
There is even a glimpse of how these new reactions might look like. Currently only the "Hmm" and "Haha" reactions have proper icons. "Cheer" and "Sad" just use the "Like" icon.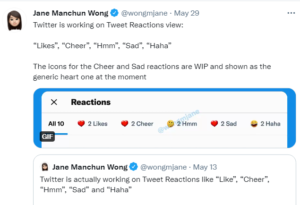 Apparently, the feature has been in testing for at least a couple of weeks now, which comes as no surprise, given that on a platform like Twitter any form of new user interaction needs to be considered very carefully.
There is always the possibility for something to be used for bullying or harassment and lead to a sticky situation.
Related stories 
Infinix, BNU launch contest for young Pakistani photographers