Gambat Medical College bans interaction of boys – girls students
KHAIRPUR: In surprise move, Gambat Medical College is the first educational institute in Sindh province which has ban the interaction between girl and boy students within college premises.
The administration of Gambat Medical College has strictly prohibited the interaction between male and female students in the parks of college premises.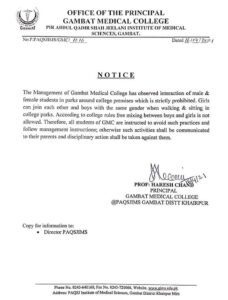 A letter issued by the principal of the college says, girls can join each other, and boys with the same gender when walking and sitting the parks. According to college rules mixing between girls and college is not allowed.
All GMC students have been instructed to follow the instruction, otherwise such activities will be communicated to their parents and disciplinary action will be taken against them.