Bilawal-Nawaz agree on new charter of democracy
ISLAMABAD, April 24,2022- PPP and PMLN leaders Bilawal and Nawaz Sharif in London agreed on what is called new charter of democracy for strengthening democracy in the country.
Bilawal Bhutto Zardari after "successful talks" with PMLN leader Nawaz Sharif is coming back home.
Bilawal left for London to meet Nawaz Sharif with four-point demands. The delegation also attended a detailed meeting held at the office of Hussein Nawaz, son of Nawaz Sharif at Stanhope House London.
The delegation of PPP has demanded from Nawaz Sharif the posts of President, Chairman Senate and Governor Punjab.
Reports said that Bilawal Bhutto also demanded 10 seats for the PPP in Punjab, out of which five Mian Sahib have already agreed to give. Though no final agreement has been reached between the PML-N and the PPP. However, Nawaz Sharif did not send Bilawal Bhutto empty handed.
Both have reaffirmed mutual consultation and consensus. Bilawal Bhutto Zardari looked satisfied after meeting with Nawaz Sharif.
Nawaz Sharif gave an Iftar dinner in his honor.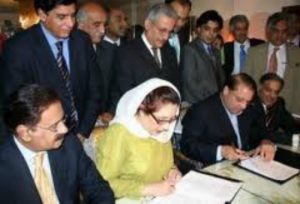 Bilawal will take oath as Foreign Minister on return. Asif Ali Zardari, in fact, wants to contest against the PTI jointly with PML-N in the forthcoming elections. He wants to ensure that the PML-N does not field a candidate in some constituencies in Punjab.
Nawaz Sharif, too, has expressed his willingness to keep unity on some of his seats by placing. The PML-N has also pledged to "accommodate" around 19 PTI dissidents who played a key role in the success of the no confidence motion.
New arrangements being finalised between the two major parties of Pakistan are being called Charter of Democracy -2.
Bilawal Bhutto vows to carry on Charter of Democracy
On May 14, 2006, the Charter of Democracy was signed by Nawaz Sharif of Pakistan Muslim League and Benazir Bhutto of Pakistan Peoples Party in London during Musharraf regime .
The document, signaling an alliance between two significant political parties of Pakistan, outlines steps to end the military rule established by the 1999 Pakistani coup d'état led by General Pervez Musharraf and restore civilian democratic rule.