Students march on Hyderabad roads, as Sindh University increases fees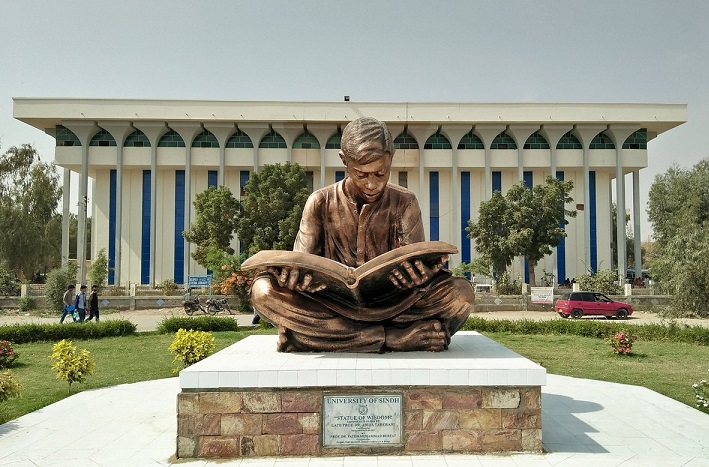 HYDERABAD June 26, 2021: A large number of students under the banner of Sindhi Shagird Tahreek (SST) and Sindhi Girls Student Tahreek marched from Gul Centre to Hyderabad Press Club here on Saturday to protest against the Sindh University administration and Sindh Government for increase in fees.
A large number of girl students attended the demonstration, waving placards and raising slogans against the increase in admission fees, the Sindh government, and the University administration.
The demonstration started from Gul Center and concluded outside local press club, where they staged sit-in.
President of SST Pardeep Gulab, president of Sindhi Girls Students Tahreek Miss Kainat Dahri and Atif Mallah, general secretary of SST led the rally.
"We have been deprived from our fundamental rights which are envisaged by the Constitution" said Pardeep Gulab, president of SST while addressing the crowd of students. He further said that "anti-education policies are being run by the government and the Sindh University administration, so that the student cannot get higher education in their own province."
"Our parents are anxious, they are not earning enough, when already pricing livelihoods sky rocketing, they are worried whether they can provide us with a meal or pay for our education.
"Sindhi people, especially Sindhi students, are experiencing biased in every subject of higher education since the establishment of Pakistan he added that we are still not allowed to receive higher education in our Karachi City, we have been pushed to the wall." He said Sindh University's recent announcement of a fee increase is nothing more than a pretext to kill Sindhi students and alleged that the Sindh government is preoccupied with counting its black money and enacting regulations that discriminate Sindhi students.
Ms Kainat Dahari, president of Sindhi Girls Students Tahreek and LLB student said, "We are not allowed to hold public gatherings, unify, or raise problems about policies, which confirms that we are not living in a democratic period rather in a dictatorial one.
She said, we would be rusticated by the universities if we raise our voices." She demanded of the government and university administration to revoke the decision to raise tuition; else, a province-wide protest will be held."