Record cabinet members were removed from in Imran Khan govt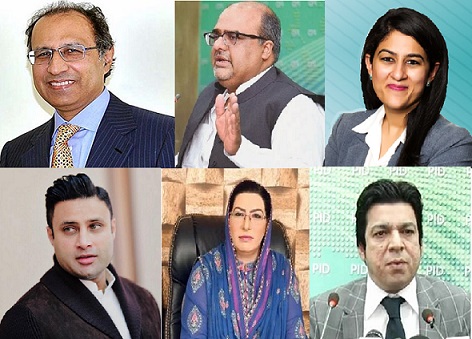 ISLAMABAD, Jan 25,3022- Record cabinet members have been removed from their posts in the Imran Khan government.
The incumbent government led by Imran Khan has surpassed all previous governments in terms of removing its cabinet members.
With the resignation or removal of Barrister Shehzad Akbar from the post of Advisor to the Prime Minister, this number has risen to almost two dozen, which is a record for any government.
During Imran Khan's three-and-a-half years in power, not only a record number of federal cabinet members were appointed but also the number of ministers, advisers and special assistants to the prime minister removed from office has risen to record levels.
Among the cabinet members who have been removed from various posts so far are Asad Umar, Abdul Hafeez Sheikh, Dr. Waqar Masood Khan, Zulfiqar Abbas Bukhari, Firdous Ashiq Awan, Ejaz Shah, Dr. Ishrat Hussain, Shehzad Akbar, Nadeem Afzal Chan, Asim Saleem Bajwa, Tabish Gohar, Faisal Wawda, Amir Mahmood Kiyani, Nadeem Babar, Zafar Mirza, Tania Aidrus, Yusuf Baig Mirza, Shehzad Syed Qasim, Shehzad Arbab, Ghulam Sarwar, Khalid Maqbool Siddiqui, Dr. Zafar Mirza and Tahir A Khan and others.
Why Shehzad Akbar?
Sources said, Shahzad Akbar's performance calls into question the promises of accountability. Sources said that the anti-corruption campaign led by him remained unsuccessful, hence the Prime Minister was not happy with his performance.
Former Advisor to the Prime Minister on Home Affairs and Accountability Shehzad Akbar has failed to make every case fruitful, from filing a reference to Justice Qazi Faez Issa to recovering the stolen money and holding the Sharif family and Zardari family responsible for alleged money laundering.
Shehzad Akbar, who held three positions at the same time, was considered one of the most powerful members of Prime Minister Imran Khan's cabinet.
Before coming to power, PTI Chairman Imran Khan's slogan was to hold corrupt politicians accountable and bring back looted money to Pakistan. But even after three years, when that did not happen, his fans started asking questions.
Barrister Shehzad Akbar though looked very active and every week he used to hold a press conference to assure the nation that he has detected money laundering, the looted money will be returned soon but these promises and claims could not be fulfilled.