PM urges society to fight against corruption, shamelessness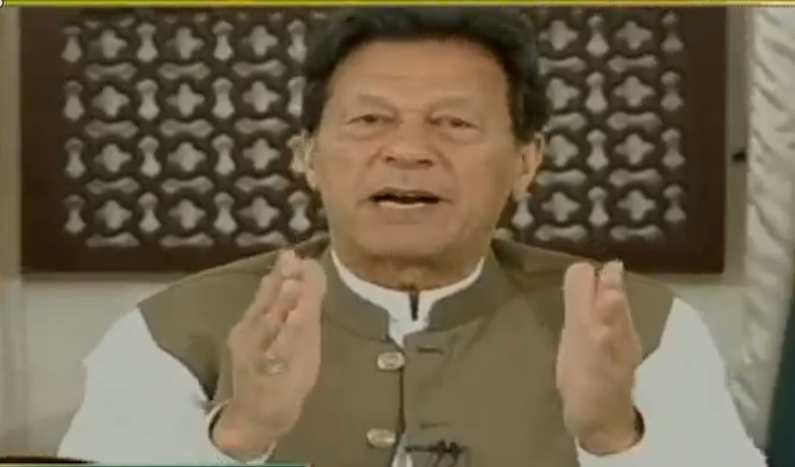 ISLAMABAD: Prime Minister Imran Khan said it was the government's responsibility to protect people during the infection, however he urged people to help yourselves and help the nation by observing coronavirus SOPs.
PM interacted with the people Sunday via telephone calls.
In response to a caller, the PM said Pakistan was importing gas at exorbitant rates, as the resources it was tapping in its own country, were on the decline.
Referring to higher education among the masses, he said, "We also have to think about what sort of high education we are imparting, he asked. He added that "buildings do not bring about quality education; it also depends on what type of degrees they are handing out to students."
To a complaint about inflation, PM said prices of vegetable and other food items were on the rise as the farmers wanted their products to be sold at high prices.
He said the people will see the positive effects of the rupee strengthening against the US dollar, adding that the local currency's performance had already led to a decline in prices of diesel.
The premier pointed out the hoarding of necessary food items was an issue.
"The FIA completed its inquiry for the first time to know everyone, how a few people hoard basic food items so their prices skyrocket and they make profits out of it," he said.
Sugar scandal: Jahangir Tareen, his son get bail
He said Imran Khan alone cannot win war against corruption and lamented how the people used to shower rose petals at people who were released from prisons after being accused of being involved in corrupt practices.
The prime minister recounted his experience in London, when "sex, drugs and Rock n Roll" were taking a hold in the country. He said society as a whole will fight this menace too, adding that such shamelessness was giving rise to rapes and other cases of sexual violence.
Turkish drama series Ertugrul was brought to Pakistan, as it was entertainment that did not breach any moral boundaries unlike Bollywood and Hollywood movies.