Johi under serious threat of drowning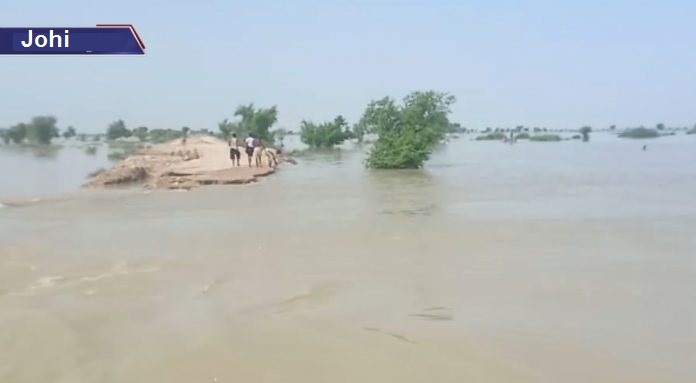 Johi is under serious threat of drowning. For migration from Johi boats are present in Dadu, while two helicopters are also arriving.
The pressure on MNV drain in Johi has increased, fear has spread among the residents of the area.
A 30-feet wide breach occurred in the last line of defense of Superio Bund in Mehar Tehsil of Dadu District of Sindh, due to which more than 100 villages are expected to be affected.
The Sindh government cracked the Johi canal to reduce the water pressure, the flood will affect 60 villages including Johi city.
According to the residents of the area, there is a possibility that the water will reach Johi- Dadu road till night, there is a danger to Johi due to the protective bund, the irrigation department has not taken any steps to stop the mudslide in the MNV drain.
Heavy flood water cause breaches in FB and Supreo Bunds
The MNV drain near Kakar is surrounded by 100 feet from the village Khoh-wara Kalhora, thousands of villages including residents of Johi city are feared to be submerged due to the flood. Many residents reached the protective embankment.
The pressure of water on the ring dam of the Johi city will also increase due to breach.