GM Syed was Sufi, modern secular nationalist: Tributes on anniversary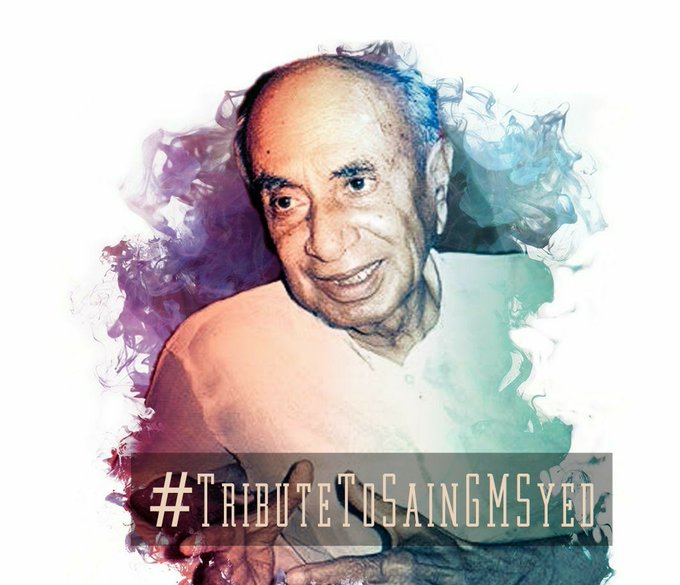 SUNN: The 26th anniversary of the founder of modern nationalist thought in Sindh, G.M Syed, is being observed on Sunday.
The caravans of people from different walks of life arrived at Syed's mausoleum in Sunn to pay their respects to him by laying wreaths at his Mazar.
Chairman Jeay Sindhi Qaumi Mahaz (JSQM) Sanaan Khan Qureshi, Amjad Mahesar and others arrived at the laid wreaths of flowers.
JSQM Riaz Chandio Group took out a rally from Indus Highway to the Mazar.
Sindh United Party chief Syed Jalal Mehmood Shah led a candle vigil rally late night and laid floral wreaths at the Mazar of  Syed.
A Sufi music evening was also held, which was largely attended by the followers of Syed. A large number of people from Sindh took to twitter and paid tribute to G.M Syed, by sharing photographs and comments.
A Left wing activist Mehran Memon paying tributes to Syed said:
No matter which progressive party you belong, no matter which nation you belong but if you keep true historical consciousness, you can't bypass GM Syed's ideology of autonomy as no 20th century nationalist struggle could succeed by bypassing Marxism-Leninism. #TributeToSainGMSyed
Fayaz hussain @Fayazabro12 while sharing a photo with Quaid Azam tweeted:
Today is the 26th death anniversary of Sain GM Syed, His nationalism can't be understood without looking into his spiritual domain. He was modern secular nationalist but at the same time a sufi and mystic. His resistance is shrouded in mystic dance & ecstacy.