Conditions not conducive for creativity and culture: Speakers of International Urdu conference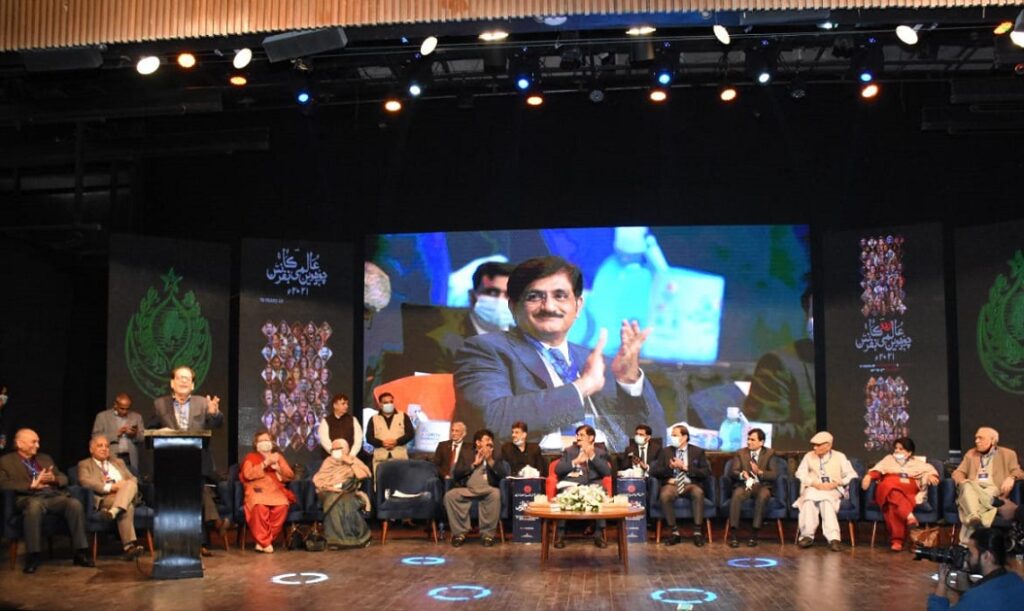 KARACHI Dec 09,2021- Addressing the four-day International Urdu Conference at Arts Council of Pakistan in Karachi, scholars and intellectuals have said that the atmosphere that the creators need is not fully available to them but they find a way for themselves to some extent.
The inaugural session of the 14th International Urdu Conference was chaired by Zahra Negah, Asad Muhammad Khan, Kishore Naheed, Maneza Hashmi, Noorul Huda Shah, Yousuf Khoshk, Munawar Saeed and Gopi Chand Narang from India online.
Researcher and educationist Dr. Jaffar Ahmed and linguist Dr. Tariq Rehman presented keynote papers.
 Addressing the inaugural session online from India, Gopi Chand Narang said that he was born in Pakistan and his language is Balochi and Seraiki while he also knows Pashto. He said that Urdu language is full of secrets for me and this language has become a part of my existence. He said that this region is in the matter of language. It is so fertile that so many languages ​​are spoken nowhere else in the region,
 He said that language like Urdu and sweetness which has elegance and politeness of Arabic and Persian as well as fragrance of our soil. This has further enhanced the beauty of Urdu language.
Openness of culture is indispensable
Dr. Jafar Ahmed, an educationist and researcher said, "Culture is shrinking at the moment. We are celebrating our culture in a way that is not conducive to us. It is imperative that we keep an eye on the reasons why literature blooms," he said. How fast the poisonous water of intolerance is being released into it.
He said that the standards of criticism in the world of literature keep changing. We have different schools of thought in every age which have become a means of advancing the caravan of literature. The openness of culture is indispensable for literature. There are no borders. The terms of literature cannot be fixed in any office but they are registered in the heart of the writer.
Other languages deserve status of national language
Dr. Tariq Rehman said that Urdu is our national language but there is also a need to give other regional languages ​​the status of national languages, he said that Urdu language is sometimes like dominant language but when other languages ​​are spoken, Urdu is called dominant language.
He said that the breadth and openness of Urdu language in its place but also giving importance to other local languages, we need to move forward with them and promote them so that they also get the status of national language like Urdu language.
President Nasheen. Zahra Nagah expressed the hope that if today's conditions are not conducive to poetry and culture, then thanks to such conferences and the efforts of writers, the time will come when society will change.
Mohammad Ahmad Shah said that the purpose of holding International Urdu Conference is to raise questions from this forum so that we all know what has happened to our civilization and society, this is our common responsibility. Let us fight against extremists, enemies of civilization and culture and those who want to destroy the peace of this country with our pen and our positive thinking.
Sindh chief minister Syed Murad Ali Shah, Sidnh culture minister Syed Sardar aslo spoke .
 On this occasion, Secretary Arts Council Prof. Ejaz Ahmad Farooqi expressed his gratitude while Dr. Huma Mir officiated the inaugural session.