Buzdar declares emergency in Murree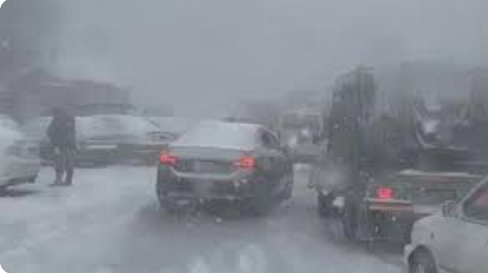 Buzdar declares emergency in Murree
LAHORE Jan 08,2022- The Punjab government declared emergency in Murree and disaster affected following reports of death of 16 to 19 tourists stranded in heavy snowfall there.
Chief Minister Punjab Sardar Usman Bazdar has ordered to open government rest houses and government offices for tourists.
Instructions have been issued to the administration by the Chief Minister of Punjab.
Record snowfall
According to the Meteorological Department, 17 inches of snow was recorded in Murree during the last 24 hours.
The Meteorological Department said that 32 inches of snowfall and 94 mm of rain was recorded in Murree since January 3.
Earlier, federal Home Minister Sheikh Rashid has said that army has been called for rescue operations in Murree on emergency basis after reports 16 to 19 people have died while 1000 vehicles have been stuck due to heavy snow fall in Murree since last night.
Home Minister Sheikh Rashid reached Murree to monitor the relief of stranded tourists in Murree and Galyat. Talking to media on the occasion, he said that 5 infantry platoon of Pakistan Army has been called for rescue operations in Murree on emergency basis. The FC and Rangers have also been called in on an emergency basis.
The Punjab Chief Minister directed to expedite the rescue operation to evacuate the people trapped in Murree.
Usman Bazdar said that all resources would be utilized to move the tourists to safer places and necessary relief items would also be provided to the tourists.
Chief Minister Usman Bazdar also directed to send additional machinery and personnel from Rawalpindi and other cities.
The Meteorological Department said that light snowfall is expected in Murree from this morning which is likely to continue till tomorrow morning.
Heavy snowfall makes Heavy snowfall makes emergency situation in Murree: Armed forces sought to rescue tourists