3 Chinese nationals killed in bomb blast in Karachi University
Karachi, April 26,2022- Four people including three Chinese nationals were killed and two other injured in bomb blast in outside Confucius Institute of Karachi University, on Tuesday.
A spokesperson for the university confirmed that three of the victims were Chinese nationals. They were identified as Confucius Institute Director Huang Guiping, Ding Mupeng, Chen Sai and Khalid, the driver. Two of the injured were identified as Wang Yuqing and Hamid.
The van carrying Chinese nationals who are said to be faculty of Confucius Institute, appeared to be turning towards the institute, located next to the commerce department, when the incident took place.
 Blast is likely to be suicidal attack
Karachi Police Chief Ghulam Nabi Memon has shown the possibility that the blast was a suicidal attack, according to preliminary reports that a burqa-covered woman may have been involved.
Karachi police chief Ghulam Nabi Memon said that it was unfortunate that teachers had been targeted. Speaking to the media, he said that four others had been injured, including a Chinese national, a private security guard and a Rangers personnel.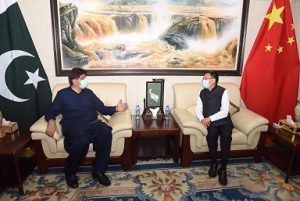 Speaking to the media, DIG East Muqaddas Haider, said initial information showed the van was headed to the institute after leaving the hostel.
"The explosion took place at the van's right side at the [institute's] entrance. We are still establishing what type of explosion it was," Haider said, confirming that four people had been killed.
He expressed concern that the blast was an act of terrorism in which Chinese people have been targeted.
Three killed, 20 injured in Quetta blast
According to security sources, the van was destroyed by a bomb blast as it caught fire after the blast.
According to sources Rangers, four personnel were injured in the explosion, four were deployed on van security on a motorcycle.
Meanwhile, the banned Baloch Liberation Army (BLA) claimed responsibility for the attack.
Sindh Chief Minister Syed Murad Ali Shah mets with Chinese Consul General Mr Li Bijian at Chinese Consulate to express deep grief and sorrow over the incident of blast in a van at Karachi University which claimed few lives, including of three Chinese.