Social media unblocked in Pakistan after 4 hours
ISLAMABAD: The government has shut social media platforms in Pakistan from 11am-3pm. TV channels reported. 
Pakistan unblocks WhatsApp, Twitter, Facebook after 4 hours.
The services of WhatsApp, Facebook, Instagram and Twitter are currently not available to users in several cities of Pakistan.
As such no reason was cited by the authorities.
Sources said that will remain closed until 3 pm Friday.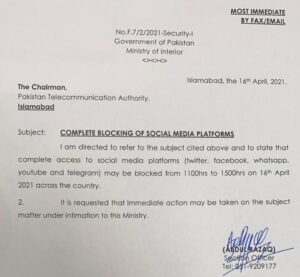 PTA took this action at the directives of Ministry of Interior.
Shortly after, the PTA released an official statement saying: "In order to maintain public order and safety, access to certain social media applications has been restricted temporarily."
Nayatel — an internet service provider — said in a message to its customers that social media platforms had been blocked on the directions of the PTA.