PM Imran invites opposition for talks on electoral reforms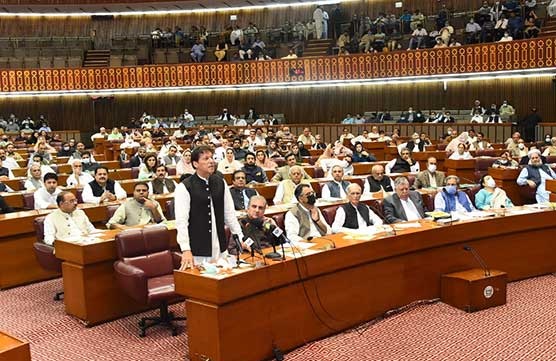 ISLAMABAD – June 30, 2021: Inviting the opposition to hold talks on electoral reforms, PM Imran Khan said that after 1970, all the elections were disputed, by-elections and Senate elections were also controversial.
Addressing the National Assembly, Imran Khan said that those contesting the elections should not worry as they would be defeated by rigging.
The Prime Minister said that we are ready to listen to the suggestions of the opposition, we have taken very painful steps to improve the economy, Shaukat Tareen made the budget according to my vision. Imran Khan said that he was grateful to UAE, Saudi Arabia and China for their help in avoiding default. He said that he had to go to IMF to avoid default.
The Prime Minister said that the economy was already in trouble and it was infected with the corona virus.
Imran Khan said that there is a plan for houses for common people, slums are spreading in our cities, we will subsidize 12 million families through awareness, Pakistan is moving towards a welfare state, a network of shelters across the country. I am spreading.
The Prime Minister further said that nations where power was ruled were destroyed, justice is the foundation of civilization.
Today, after 74 years, Pakistan has started moving towards an Islamic Republic of Pakistan.
He said that we have prepared data of 45 million people. We are going to bring programs for these 4 million people. We will give 300,000 loans to small farmers and 500,000 interest free loans to cities. Health justice cards have been issued in three provinces. Yes, we have to give health insurance to everyone.
Prior to the meeting, the Speaker of the National Assembly had met the opposition leaders.
He also asked the opposition leaders not to make a fuss in the meeting.
The opposition said that if the Prime Minister was remained confined to the budget speech, they would listen to the speech and if there were any allegations, they would respond.
The opposition proposed convening a joint sitting of parliament on national security.