Pandemic aggravated existing inequalities, cases remained pending in judiciary: HRCP's annual report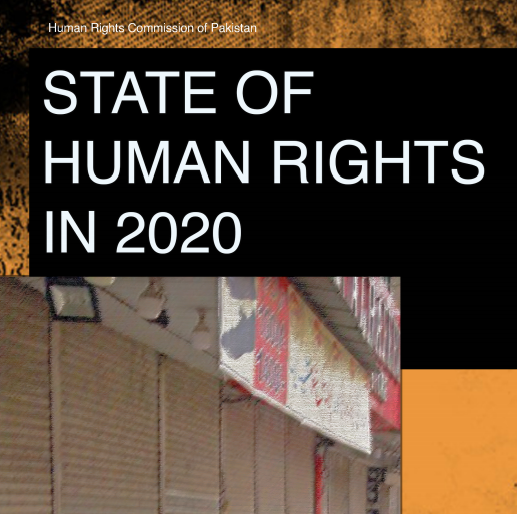 LAHORE: The Human Rights Commission of Pakistan (HRCP) Monday released its annual report —State of Human Rights in 2020 the Covid-19 said pandemic aggravated existing inequalities, leaving millions of vulnerable workers at risk of losing their livelihoods. While curbs on dissent marred 2020.
Report stated that even the government's revival plan ignored those most affected by the pandemic and instead focused on the elite. According to reports in the press, of nearly PKR 3 trillion in relief packages, including fiscal breaks, a mere PKR 200 billion was spent in direct cash transfers to the poorest during the lockdown to shield them from hunger. The remaining amount catered to supporting private businesses but without creating enough jobs, ensuring fair wages and generating revenue.
"Perhaps one of the most significant impacts of the pandemic—with long-standing reverberations—was on education'" report said the closure of educational institutions and failure to effectively transform modes of teaching from physical to digital at any level, is likely to push down the already low literacy and enrolment rates, especially for girls and women whose public participation is already discouraged.
Report pointed out the pandemic was a huge blow to educational institutions, with students compelled to attend online classes to the detriment of thousands in Balochistan, the tribal districts of Khyber Pakhtunkhwa, and Gilgit-Baltistan, who had little or no access to reliable internet connections.
Report said the high-level National Coordination Committee and National Command and Operation Centre—set up at the outset of the Covid-19 crisis—was established without parliamentary approval.
Regarding Administration of justice report revealed that by year-end, there were over 2.1 million cases pending in the judiciary, as against almost 1.8 million in 2019.
Report highlighted the role of the National Accountability Bureau (NAB) continued its operations as an instrument that violates fundamental human rights, including the right to fair trial and due process, the right to dignity, freedom of movement and privacy, and the freedom to trade and do business.
The report mentioned that the National Commission for Human Rights has been dysfunctional since May 2019, pending the appointment of a new chairperson. Likewise, the post of chairperson of the National Commission on the Status of Women has lain vacant since November 2019.
Top human rights body said that since the inception of the Commission of Inquiry on Enforced Disappearances (COIED), KP has topped the list in terms of numbers of missing persons. At end-December 2020, the total number of cases registered in the province stood at 2,942.
Referring to press freedom report particularly mentioned the the arrest of the head of the Jang group of publications, Mir Shakilur-Rahman—on the grounds of a 34-year-old property allotment case—was widely seen as an attempt to pressurise media groups into towing the line. It further said at least ten journalists were murdered and several others threatened, kidnapped, tortured, and arrested while discharging their professional responsibilities.
HRCP documented at least 31 forced conversions in 2020, six of which involved minors. The HRCP document  quoted " Police data shows that at least 586 persons were booked on charges of blasphemy in 2020, with the overwhelming majority from Punjab." While data from the Ahmadiyya community indicates that at least 24 cases were registered against members on religious grounds, including a jeweller who was booked in Toba Tek Singh for having sacrificed a cow and distributed the meat among Sunni Muslims. Report said that three members of the Ahmadiyya community were killed in separate targeted attacks, including an elderly person accused of blasphemy, who was shot dead inside a courtroom.
Based on reports in the press, HRCP recorded 430 cases of honour killing in 2020, involving 148 male and 363 female victims. The report referred the gang-rape of a woman on the Lahore-Sialkot motorway in September, in the presence of her children, elicited shock and outrage, compounded when the capital city police officer in Lahore callously suggested that she should have 'chosen her route more carefully.'
No inroads were made in tackling the backlog of court cases—188,176 in the Lahore High Court and 1,372,908 in the District Judiciary Punjab by end-December 2020.
Punjab crime
Rape 3,773, Gang-rape 219, Rape of minors 163, Murder and attempted murder 9,634, Kidnappings/abductions 13,397, Honour killings 237, Domestic violence 576, Acid crimes 59,  Hate material 11, Blasphemy 487, and Police encounters 293 cases were reported through out year.
Fifteen percent of the 22 million children in Punjab between the ages of five and 15 years are estimated to be out of school According to the Sindh education minister Saeed Ghani, around 3.5 million children in the province are out of school.
Sindh 
Quoting the Sindh Human Rights Defenders Network, the HRCP report said 127 persons went missing in the province during the year, of which 112 resurfaced while 15 were still missing.
At least six cases of forced conversion of Hindu girls were reported in the province, the human rights organization said.
Based on reports in the press, HRCP recorded 197 honour killings in 2020 for Sindh, involving 215 victims—79 male and 136 female victims.
Judiciary
About 1,899 cases were pending trial in special courts as of 30 November and over 240 cases were instituted as of December. The courts disposed of 125 cases, convicted 24 persons and acquitted 98 others. Official sources said that the conviction rate stood at 19 percent and the acquittal rate at 78 percent. According to the Law and Justice Commission, the Sindh High Court (SHC) started the year with a balance of 83,944 cases; by 31 December 2020, the number of pending cases stood at 81,684. A total of 28,340 new cases were instituted during the year and 27,155 cases were disposed of. Pending cases in the District Judiciary Sindh had reached the level of 115,815 for the same period—an increase of 21,855 over the number of outstanding cases at the beginning of 2020.
Crime in Sindh
Murder 1,350, Culpable homicide (not amounting to murder) 100 , attempt to murder 1,820 (an increase of 196), honour crimes  126, grievous hurt  865,
Rioting 2,790 (an increase of 319) , assault on police 1,915  (an increase of 278),  rape 344,  gang-rape 54, kidnapping/abduction 3,226 (an increase of 166), Kidnapping for ransom  82,
Child lifting  291 (an increase of 117),  blasphemy 50 cases were registered.
Sindh prisoners
According to the report 127 persons went missing in the province in 2020; out of these, 112 resurfaced and 15 were still missing by the end of the year.
Conversion 
At least six cases of forced conversion of Hindu girls were reported in the press, including Mehak and Lata Kumari (kidnapped in Jacobabad), Sormi and Shanti (kidnapped in Tharparkar), Simran (missing from Pano Aqil), and Parsha Kumari (kidnapped in Khairpur). Cases of abduction were filed in the courts and the girls were claimed to have solemnised their marriage in accordance with shariah law. The alleged abduction, forced conversion and marriage of a minor Christian girl, Arzoo Masih, in Karachi in October indicates that the problem is not restricted to the rural Hindu community.