Murad blasts federal govt over distribution of development funds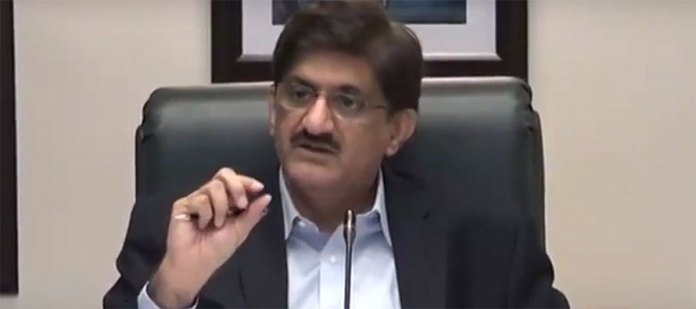 KARACHI (June 8, 2021) Sindh Chief Minister Syed Murad Ali Shah while criticizing the federal government attitude towards Sindh has said that the constitutional requirements were not meet for the National Economic Council, though it is a constitutional body.
Flanked with Sindh ministers Syed Nasir Shah and Nisar Ahmed Khurho, he addressing a press conference here on Tuesday.
"The constitution says there should be two meetings of NEC, this I told to Prime Minister, but not positively responded, said the Sindh CM and added that the constitution is not being implemented.
What has been done with Sindh in the PSDP is clear, and added that he wrote a letter to the Prime Minister on June 5.
Syed Murad Ali Shah Said the agenda for the 7th June NEC meeting was not received until June 5.
Talking about the improvement of the road sector, Sindh CM said, the NHA has earmarked Rs 7 billion for Sindh and Rs 32 billion for Punjab. The Chief Ministers of Punjab and KP are my brothers. I'm glad to have the money there, but we're just asking for our rights. Sindh is allocated 15 billion, while Rs 42 billion has been set aside for KP.
Any one check the condition from Karachi to Hyderabad Motorway built on public-private partnership mode. I told the Prime Minister to travel by car on this road.
There is no scheme for Sindh in the NHA portfolio
The Sehwan Dual Carriageway from Jamshoro was to be built in 2017, it was said that the Sindh government should give half the money, we deposited seven billion. Now it is 2021, what is its position of the road? I think I am talking to the deaf.
We do not mind Punjab Khyber Pakhtunkhwa getting more funds, our objections are for ignoring Sindh.
In the road sector, Rs 1.5 billion was set aside for a five-year-old scheme in Sindh, Shah said and added, "Our grievance is not with Punjab but with the federal government."
Sindh CM said, federal government was giving schemes without consulting the province.
It is a developing story
Related Stories
Sindh CM pens letter for joint session of Parliament to discuss approval of Census results
All parliamentary leaders in Sindh Assembly support demand to end water scarcity