Leftists call for counter narrative for real democracy
Rich tributes paid to Left wing student leaders of 80s
Paying tributes to Leftists student movement leaders the speakers said that progressives, nationalist leaders, writers, intellectuals and journalists call for counter narrative for real democracy and said that a political role is necessary for their society to overcome all the doom and make Pakistan a true democratic country and take this country from the security state narrative.
The capitalist system is now much exposed clear and its prolonged stay is not possible now, so progressive, democratic and patriotic parties have to get new position and new alliances.
These views were expressed at Hyderabad Press Club yesterday gathering which was organized to pay tributes to the left wing student leaders of '80s, Professor Dr Imdad Chandio, Prof Dr Sher Muhammad Mangrio, Muhammad Khan Solangi and Israr Langah.
Speaking on the occasion, former student leader Comrade Prof Imdad Chandio said that the struggle from comrade Jam Saqi to today's youth, like the waves of the sea. He said Jam Saqwi was our inspiration. Nazir Abbasi was martyred, Jam Saqi was kept in imprisoned for years and friends sitting on stage underwent sentence 7 years imprisonment suffered hardships in jail but all the hardships couldn't stop us, and we're proud of the revolutionary politics of the past.
Dr Imdad Chandio said that like the Syed M Syed, state apparatus used to fear from Comrade Jam Saqi, and added Sindh's youth has a heroic past, which resisted oppression from 50s onward and said, if the youth today does not resist oppression and cannot call themselves as youth.
Comrade Chandio said that the sacrifices of political activists and leaders in Sindh have a long history. The martyrs and sacrifices of many youths from Shaheed Nazir Abbasi have been an important part of history. He recalled that from Shaheed Nazeer Abbasi and Comrade Jam Saqi to this day many political activists and our colleagues suffered tortures and persecution for sticking to their ideology. They faced all this because they wanted to change this exploitative system and make it equitable.
"We have resisted not with weapons but with our ideological ability. We were not afraid of scolding. Today, the youth should be taught that whenever dictatorship tries to impose itself on you, please respond correctly you should expose it through ideology and masses support" he said. He said that we would always be on side of the weak people.
Prof Imdad said that all our progressive and nationalist leaders including GM Syed, Comrade Jam Saqi, Khair Bakhsh Marri, Khan Ghafar Khan and Shaheed Nazir Abbasi were people of the same tribe who wanted to create a society based on equal rights, justice and also free from exploitation through their politics.
He said that we should play a bridge between Urdu and Sindhi speaking population in Sindh. The hatred has now been reduced to a great extent, but for the interests of Sindh, Urdu speakers have to come on board with it. "Our future is rooted in the rights of the people," he said.
Democracy cannot be established though stick of Waderas, it should be made taken at lower level, without the participation of the people and the rights of the nations, concept of democracy is incomplete and incorrect.
"We want the protection of the rights of the nations in Pakistan, Sindh opted to join Pakistan as an independent state, so we cannot afford it be reduced to a colony. He said the problems of the nation question cannot be resolved without giving them their rights," he said, only then true democracy will be established.
Former student leader Mohammed Khan Solangi shared his jail and political struggle memories and said, if I had not met left-wing friends, I would have gone some wrong path today. He said political and ideological training made him a perfect person.
Former student leader Sher Mohammad Mangrio thanked the organizers for arranging such event and said he was happy to see a large number of friends who had been connected during struggle.
Former student leader Israr Langah said, "I started student politics from Sindh National Students Federation and still following that ideology" he said.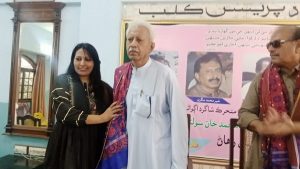 He said the Communist Party taught us politics and gave us theoretical training, that what is wrong and what is right.
Former student leader and renowned lawyer Yousuf Laghari said that one can differ from the views of these persons, but their intentions and role cannot be disputed. Nevertheless, they only propelled the progressive movement in Sindh, through these characters Communists got recognition in Sindh.
He said apart from working for working class and peasants they also fought against religious fanaticism and extremism that is another contribution of the communists.
He called the patriotic forces and progressives to unite.
Nationalist leader Asif Baladi said, he was follower of GM Syed, but Comrades impressed him and he knew that class question is not separate from national question
He said that Sindh played a big part in the nationalist, democratic and progressive movements in Pakistan.
He said that today those claiming to be champions of democratic politics consider common man as sheep herd. "We have to evaluate ourselves as well as the people. He said that the question is whether the individual has not been subjected to exploitation in the name of the masses.
Leader of the National Party, Comrade Rahim Bakhsh Jafri, said that the PPP and Nawaz Sharif have given legitimacy to the security state narrative and added that there is no limit to democracy. Secular and democratically sound, but creating a group of bigots has led the general public away from politics.
Senior vice chairman of
HRCP Asad Iqbal Butt appreciated the idea of paying tributes to real people in their live instead after death and said, a tireless struggle is needed for end the exploitative system.
The renowned journalist Sohail Sangi recalled the leadership skills of Comrade Imdad Chandio and said party polished his skills and he was made public face and mass leader of student front. He said Leftists created counter narrative and brought balance in the politics of the country, therefore they were polpular and relevant, unfortunately that is missing today.
Samar Haider Jatoi, president of the Nashik Committee, Iqbal Mahal, general secretary of the Hyderabad Press Club, scholar and writer Zafar Junejo, Dr Abul Rahman Prizado, Comrade Anwar Panhwar, Comrade Taj Mari,  Ali Raza Abdi, Zia Bhatti, Fayaz Chandio, Suleman Dhari Advocate, Idrees Jatoi, senior journalist Mahesh Kumar, Isehaq Mangrio also spoke on the occasion.
Dr Hameed Soomro thank the participant on behalf the organisers and said this was the second event of the series and will continue to arrange such programs in future.
Dr Haresh Kumar, Khalida Pirzado, Khalil Kazi and others presented the Ajraks to the heroes of the 80s students activists.