Jain statues dumped in 71′ Indo-Pak war excavated in Thar
Arbaz Ahmed Janjhi
KARACHI: Jains while migrating due to 1971 Indo Pak war dumped also half a dozen Jain statues, now were recovered during a recent campaign during for the restoration of a heritage site in Thar. 
Badar Abro who has also written a book on Jainism in Sindh, said 1971 Indo Pak war caused migration of Jains. Before leaving home they dumped the statue presumably safe and thought to take it out when they return. But they never returned.
Abro said five statues found from Gaushala were in damaged condition, which have been successfully repaired.
Endowment Fund Trust for Preservation of the Heritage of Sindh announced on Friday that its volunteers found the statutes while restoring a temple in the Nagarparkar town of district Tharparkar.
EFT has formally written a letter to Sindh government and sources said these statue will soon be handed over to the provincial government.
"The temple will be handed over to the Culture Department, government of Sindh, along with the statues of (sandstone and marble) Mahavira and other Tirthankaras of Janisim," EFT for Preservation of the Heritage of Sindh announcement said.
Hameed Akhund of the Endowment Fund for Trust for Preservation of the Heritage of Sindh said, "We think when the war began in 1971 between India and Pakistan, someone dumped them in underground worship chamber space where we were doing our project."
Scholars have appreciated the efforts of EFT for successful recovery of the  11th century Jain statues.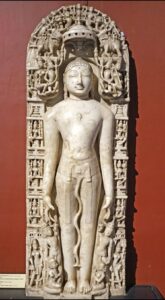 Researcher Badar Abro who worked in the field team of EFT told Daily Outcome that one statue was found from underground worship chamber at main Jain Temple, while five others were found from Gaushala, a place on the back side of the temple. It was under by debris with 1.5 and 2 feet depth.
Researcher Abro who is considered authority on the subject in this side also said that a beautiful 11th century marble statue of Jaina tirthankara Shantinatha locally called Rekhoo Deva was once installed inside the Jain temple at Viravah, Sindh which was taken away by India, when it occupied this area in 1971 war. This has been placed in Bombay Museum.
The statue of Parasvanath  was originally placed at Gori Temple, from where Sodha ruler brought here. The Sodha used to put it on display against payment from the Jains. It was supposedly burred some where in Viravah, Badar Abro added.