Five influentials booked in Ghotki for holding jirga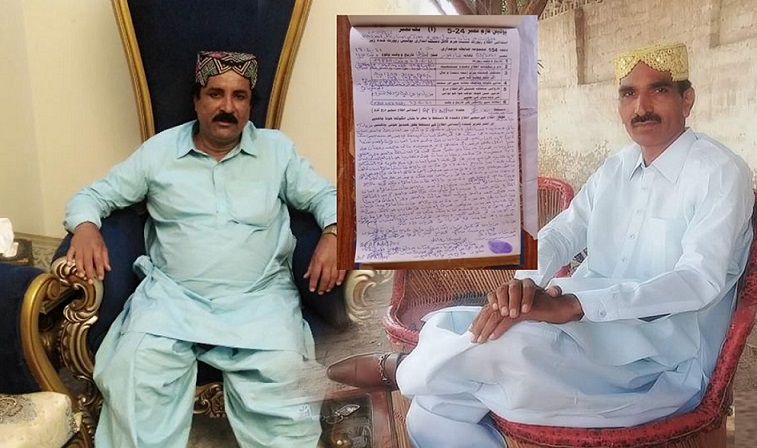 SUKKUR, June 23, 2021) Ghotki police registered a case against five persons for holding a Jirga-private court.
The FIR has been lodged against Jirga head Balach Khan Shahani and Wadero Amanullah Waso.
Complainant Nazir Ahmed Waso stated in the complaint that a jirga was convened at the residence of influential Wadero Amanullah Waso, in which local influential also participated.
A fine of Rs 5.5 million was imposed.
According to the complainant Nazeer Ahmed Waso, the influential Wadera Amanullah Waso, Habibullah Waso and others issued him death threats for refusing to accept the decision of jirga.
SSP Ghotki Omar Tufail took notice of the matter when local media reported.
A girl Fehmida Waso's hand was reportedly given to a person, but later her parents broke the engagement. She was married to toher person.
Balach Khan Shahani held a Jirga and fined Rs 5.5 for relocation of Fehmida Waso.
DSP Ghotki Hafiz Abdul Qadir Chachar was appointed Inquiry Officer. The report was handed over to SSP Ghotki after recording the statements of both the parties.
The Sindh High Court imposed a ban on the holding of jirgas in April 2004. The ban, however, has been ignored
Right activists say, the trial by jirga is the prime protector of the tradition of 'honour killing', and the prime protectors of the jirga system are the feudal lords who now, in large numbers, are in positions of political power.
Holding of Jirga was banned on a petition of a couple from Ghotki namely Shazia Mangi and Ehsan Chachar. Shazia and Ehsan married on their freewill while fulfilling the legal requirements.
In that Jirga Shazia was declared a 'kari' and Ehsan, her legally wedded husband, a 'karo'.
The matter was taken up in Sindh High Court Sukkur bench. Justice Rehmat Jafri gave verdict declaring holding of Jirga throughout Sindh illegal.
The SHC verdict says:
The private persons have no authority to execute the decision of jirgas nor the jirgas have the authority to execute their own decisions through their own sources. If such decisions are carried out and executed by killing persons, then the offence of murder will be committed and they will be liable for action as per the law ……. the jirgas have also usurped the powers of the executing authorities which is not permissible under the Constitution or the law.