First ever students societies service center set up in Latif University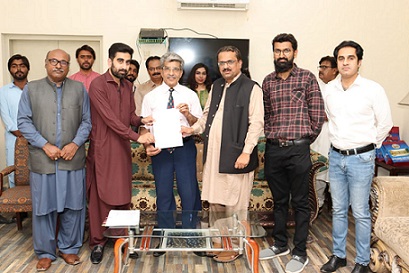 KHAIRPUR, May 15,2022- The First Ever Students Societies Service Centre among the approximately 235 public and private universities of Pakistan established with the help of USAID was handed over to Shah Abdul Latif University, Khairpur.
The handing and taking over ceremony was held in the presence of Vice Chancellor Prof. Dr. Khalil Ahmed Ibupoto.
Talking to the participants, Prof. Dr. Khalil Ahmed Ibupoto said that a state of art building has been constructed at Shah Abdul Latif University, Khairpur by USAID. Shah Abdul Latif University, Khairpur was selected owing to its important location which connects the three Provinces.
Dr. Ibupoto remarked that our students possess rich talent, only we have to provide patronage and guideline. He said this centre will provide a viable platform for Students Societies to contribute positively in co-curricular activities and nation building.
Dr. Ibupoto extended his cordial thanks to USAID, DAI, Pakistan and Inter-university Consortium for the Promotion of Social Sciences (IUCPSS).
Scholarship cheques distribution ceremony in Latif University 
Pribhdas Advani never imagined his Vidyalaya School will turn to be Sindh University
Muhammad Murtaza Noor, National Coordinator IUCPSS said that under the patronage of incumbent Vice Chancellor Prof. Dr. Khalil Ahmed Ibupoto, this building has been constructed. The latest equipments have been provided. He said in the wake of COVID-19, the work of building remained continue. He suggested that in order to coordinate and observe the performance of the students, Vice Chancellor meet up with students of societies is essential at least on monthly basis.
Prof. Dr. Taj Muhammad Lashari, Dean Faculty of Social Sciences and Convener Monitoring Committee for the construction of Students Societies Service Centre briefed that the ground breaking ceremony was held on 29 September 2020. As per it's mandate of agreement, a Monitoring Committee was constituted consisting on Pro-Vice Chancellor Ghotki Campus, Registrar, Project Director (Works) and National Coordinator IUCPSS. He said different societies have been established in order to inculcate the concept of national integration, unity and cohesion among the students.
The Vice Chancellor decorated the Sindhi traditional Ajraks to the guests.
Prof. Dr. Maqsood Zia Shah, Pro-Vice Chancellor, Ghotki Campus, Engr. Ghulam Asghar Shaikh, Project Director (Works), Mr. Ali Imran Shakir, Project Technical Lead, Ms. Natasha Fateh Burfat, Mr. Maaz, Resident Engineer, Mr. Zohaib Memon, Secretary to Vice Chancellor and the representatives of different societies were present.